Born Port Macquarie NSW 1963 Fine Art Education St. George School of Art Sydney – early 80's Further Art Education Western Australia 1995-97
2016
Winner of the Brisbane City Council-Citycat Wrap Competition
Art Director of Bulimba Festival
Represented by The Manly Gallery, Brisbane
2015 – 2012
Represented by The Manly Gallery – Brisbane
Represented by Larte Cafe Brisbane
Co-Art Director of Bulimba Festival 2015
2012-2006
Solo Exhibition at Eat Cafe Morningside QLD
Brisbane Airport Commission
Numerous Traffic Signal Boxes for Urban Smart Projects and Brisbane City Council
Mural Commissioned by Bulimba state School
Mural at Norman Park State School
Commissioned Coffee News Bulimba for Postcard Design
Mural Commissioned by Wesley Hospital Brisbane
Artwork for Bowden & Partners Uniform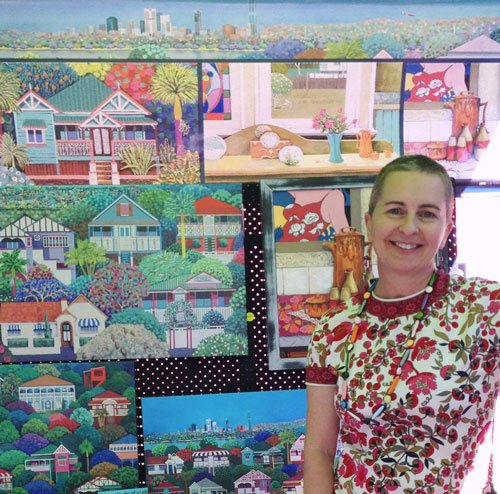 2005-2000
Commission Painting for Origin Energy Brisbane QLD
Solo Exhibition Simpactico Gallery Bulimba QLD
Solo Exhibition Oxford 152 Bulimba QLD
Solo Exhibition Bulimba Bean QLD
Since Solo show in 2002, I have continued to fulfil commissions for "cityscape"paintings, along with other works (over 250 paintings)
1990s
Numerous Group Exhibitions NSW,QLD & WA including Mosman Park Gallery, Attwell House Gallery and East Fremantle Gallery
Bibliography Gregory, Helen and McLay, Dianne:"Building Brisbane's History" ISBN: 9781921606199 2010 Ovenden, Catherine and Gaunt, Nicole: " Brisbane Traffic Art.1″ 2008 McLay, Dianne: "Brisbane's Best Bush, Bay & City Walks" 2005
Awards Wilson Art Show 2008 – Winner Landscape Class Winner of the Brisbane City Council-Citycat Wrap Competition
Collections
Works represented in corporate Australia include, Brisbane Airport Corporation & Origin Energy
Works also represented in private collections throughout australasia, Europe, Canada and the USA, including the private collections of Kevin Rudd Mp, Keith Urban & Nicole Kidman, plus Captain Feathersword!
Passions in life besides painting
A good cup of coffee
My 3 wonderful children & one & only husband of 25 years
Bean, my beautiful little shitzu x Lowchen
Moss, my second shitzu x…What a challenge!
The sound of a Holden Monaro
Patchouli & Sandalwood
The smell of gardenias and rain
Rediscovering much loved treasures from my past
Favourite colour – Orange
Favourite Food – Prawns & Figs
Favourite Music – Mozart, Lou Reed, Rodriguez and Joni Mitchell
3 tattoos
Retro
George Clooney
Goals
to one day own a VW Combi
to be rich & famous…..oh! and to be less materialistic!
Debra is available for personal commissions