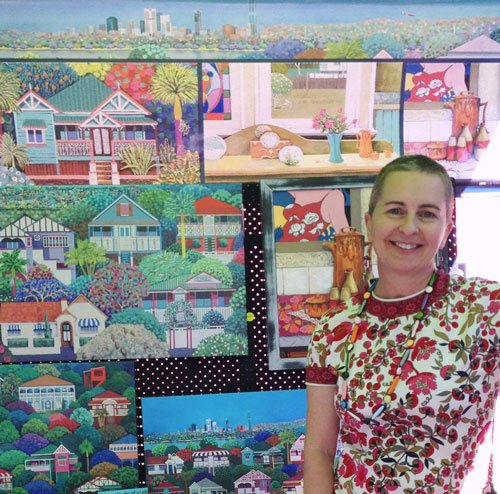 My Godfather, Dr Eric Murphy lived with us for a time and he was a beautiful oil painter and did superb charcoal drawings daily and these enthralled me as a 6year old child. This is the first time I recall the intoxicating smell of Linseed Oil and I still have his old timber paint box on my studio desk. The linseed scent still lingers.
I studied art in Port Macquarie High School and during Year 12 I wagged many classes and just turned up for Art Lessons!  We were fortunate to have two awesome and inspirational art teachers Jim Matsinos and Petina Alexander who inspired so many young people from Port Macquarie to venture into the big wide world to chase art careers. Many of these have become successful film makers, costume designers, ceramicists, photographers, advertising gurus, designers and artists! Such a great legacy. I ventured to Sydney and studied Fine Arts at and affiliate school of East Sydney Technical College now the National Art School.
Most days I work in my little haven aka studio, for at least 8 hours normally from 4pm – 2am.
I'm also often engaged to create public art works which I enjoy immensely as it gives me a connection to my community and provides a creative challenge working on a completely different scale than my usual. One significant piece of public art that was a game changer in my role as an artist is the Mooroolbin Brisbane City Cat, which travels up and down the Brisbane River all day wrapped in my artwork of Queenslander houses.
So many artists have been an inspiration to me over the years. My heart will always ache for the beauty in paintings of Mark Rothko, Margaret Olley, Kathleen O'Connor and Jeffrey Smart, but one of the most profound and life changing moments for me was when I visited and exhibition opening of Suzanne O'Doherty at Doggett St Gallery in 2001. I asked her "What advice would you give a person who wants to make a successful career as an artist? Her answer was to "simply paint what you know and paint what's around you" AND work within your community on art projects as much as possible" Light Bulb time!
I started painting domestic scenes with lots of white cloth nappies on a clothes line obscuring my view from the rest of the world! I was at this time a mother of 3 young ones, leading a very insular domestic life with little time for creative freedom.  I also began painting my retro collection of objects in still life clusters, with clashing patterns and colours. Then the works moved to views of neighbourhood houses looking out of a window, but still the canvas was near covered by an expansive white nappy, and so began the mix of celebrating domestic life, Queenslander homes in my neighbourhood and the joyful challenge of resolving the placement of clashing colours and patterns alongside one another, a retro reflection for sure.
My paintings soon lost the nappies, as did my babies, and the current subject of the Brisbane suburban scape emerged. The evolution of the houses initially represented domesticity at that point in my life and now translate as a celebration of Brisbane, it's history and present.
This burgeoning out from Motherhood in subject matter also happened in a physical sense as I took on more and more large-scale artworks beyond the laundry tub so to speak! I know have a great desire to give art and artists a platform within my community and hence the formation of Southside Art Market and a n NFP Southside ArtistS Inc or BSASI as we like to call ourselves!
Over time the foliage in my paintings is becoming more dotted with my brush, this mirrors the Brisbane Spring time when the blossoms of Jacaranda, Poinciana, Pink Trumpet and Golden Penda trees fall on mass, like confetti, to create a multicoloured carpet that displays around the iconic Queenslander houses.
Being so engaged in the community and having some involvement in the petitioning for maintaining the local history and architecture also brings me another avenue to engage on the issue of Brisbane's urgent need for preservation for her iconic domestic architecture.
This passion also brings great disappointment, frustration, anger and sadness when I see these unique houses lost to what I call bland beige architecture. The loss of the Queenslander in our streets is changing the dynamic of how we live and engage as a community. The social impact of this will be of significant social consequence in the next generation.
2005-2000
Commission Painting for Origin Energy Brisbane QLD
Solo Exhibition Simpactico Gallery Bulimba QLD
Solo Exhibition Oxford 152 Bulimba QLD
Solo Exhibition Bulimba Bean QLD
Since Solo show in 2002, I have continued to fulfil commissions for "cityscape"paintings, along with other works (over 250 paintings)
1990s
Numerous Group Exhibitions NSW,QLD & WA including Mosman Park Gallery, Attwell House Gallery and East Fremantle Gallery
Bibliography Gregory, Helen and McLay, Dianne:"Building Brisbane's History" ISBN: 9781921606199 2010 Ovenden, Catherine and Gaunt, Nicole: " Brisbane Traffic Art.1″ 2008 McLay, Dianne: "Brisbane's Best Bush, Bay & City Walks" 2005
Awards Wilson Art Show 2008 – Winner Landscape Class Winner of the Brisbane City Council-Citycat Wrap Competition
  Born Port Macquarie NSW 1963 Fine Art Education St. George School of Art Sydney – early 80's Further Art Education Western Australia 1995-97
2016
Winner of the Brisbane City Council-Citycat Wrap Competition
Art Director of Bulimba Festival
Represented by The Manly Gallery, Brisbane
2015 – 2012
Represented by The Manly Gallery – Brisbane
Represented by Larte Cafe Brisbane
Co-Art Director of Bulimba Festival 2015
2012-2006
Solo Exhibition at Eat Cafe Morningside QLD
Brisbane Airport Commission
Numerous Traffic Signal Boxes for Urban Smart Projects and Brisbane City Council
Mural Commissioned by Bulimba state School
Mural at Norman Park State School
Commissioned Coffee News Bulimba for Postcard Design
Mural Commissioned by Wesley Hospital Brisbane
Artwork for Bowden & Partners Uniform
Works represented in corporate Australia include, Brisbane Airport Corporation & Origin Energy
Works also represented in private collections throughout australasia, Europe, Canada and the USA, including the private collections of Kevin Rudd Mp, Keith Urban & Nicole Kidman, plus Captain Feathersword!
Passions in life besides painting
A good cup of coffee
My 3 wonderful children & one & only husband of 25 years
Bean, my beautiful little shitzu x Lowchen
Moss, my second shitzu x…What a challenge!
The sound of a Holden Monaro
Patchouli & Sandalwood
The smell of gardenias and rain
Rediscovering much loved treasures from my past
Favourite colour – Orange
Favourite Food – Prawns & Figs
Favourite Music – Mozart, Lou Reed, Rodriguez and Joni Mitchell
3 tattoos
Retro
George Clooney
Goals
to one day own a VW Combi
to be rich & famous…..oh! and to be less materialistic!
Debra is available for personal commissions